Crabbing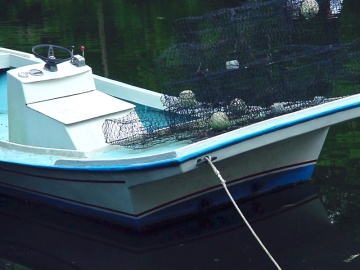 Crabbing is a fun form of entertainment for both tourists and residents to a coastal location. Because there are several different ways to crab it is a flexible tourist attraction that can be either cheap or expensive. The cheap and lazy alternative is with a beer in hand while sitting on a dock. A more expensive and involved crabbing experience can be found with a fishing charter or by renting a boat. In many locations a traveler can crab at any time of the year.
A person looking to crab and almost ensure they end up with a catch can go on a group excursion with a crabbing boat. A crabbing charter will supply the equipment, take the crabber to well known crabbing locations, then teach the person how to use the crab traps widely known as crab pots. Usually a crabber will pull crab pots that have been set by the previous day's charter. The traps are thrown into the water while tied to a brightly colored buoy for retrieval the next day. The first task of a crabber will be to pull up yesterday's traps, remove the crabs, and measure them and check their sex. If the crabs are the right gender and big enough they are kept. If not, they are thrown back into the water. The crab traps are then baited and lowered back into the water for tomorrow's crabbing expedition. The boat circles several times while pulling up the crab pots so a person prone to sea sickness should take some sea sickness medication before getting on the boat.
Any crabber looking to crab without the aid of a crabbing charter must first buy or rent the necessary equipment. Crabbing can be as simple as sitting on a dock or the beach and dropping a crabbing trap into the water. The crabber sits and relaxes while waiting to check the crab pots. There is also the option of going into the shallows with a net and looking for hiding crabs. This is called scaping and sometimes scraping. To crab from a dock, a crabber will need a trap, some sort of bait, and something to measure the crab with. Traps and bait are usually very cheap. The traps can be rented from a shop for a few dollars a day and the bait can be bought for less than a dollar. If you want to buy an easy to use crab catcher you can try the CrabHawk. This unique crab trap lets you crab from the dock or shore, but cast over 100 feet for deep water crabs.
Most locations have specific requirements for keeping crab. Usually they must be a specific size or specific gender. If a crabber wants to crab without a service it is advised that they find out what these requirements are before hand. It is also a good idea to check into crabbing licenses and limits on the types of crab in the area. Places that rent crab pots and traps can inform you on the local crabbing and fishing laws. They can also offer expertise on how to crab properly.