What to Expect in a Fitness Center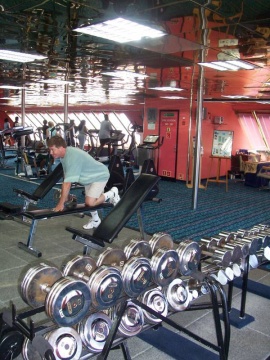 Fitness centers now offer many more amenities than just a common gym or a weight room. Most large fitness centers still offer a gym but they offer other things such as personal trainers, classes, massages, and child play areas. Larger fitness centers are likely to have gyms, in door soccer, basketball courts, tennis courts, racquetball, swimming pools, saunas, steam rooms, tanning, in door running tracks, and even rock climbing. Smaller fitness centers usually have gyms that have: free weights, treadmills, and cycles. The smaller fitness centers often offer massages and tanning too.
Many fitness centers are family oriented and offer programs for everyone from children to adults. Day care is provided for your small children in many fitness centers. This gives you comfort to work out and know your kids are close by and being entertained. With so many people becoming more concerned about their health and fitness, exercise centers offer a wide variety of ways to exercise and stay in shape. Today many fitness centers teach several classes and offer personal trainers. Here are a few types of fitness classes you might find in a good exercise center:
Water Fitness
Yoga
Pilates
Step Aerobics
Dancing
Athletic Training
Senior Fitness Classes
Kick Boxing
Tai Chi
Swimming Lessons
Personal trainers help each person reach their goals in the most effective and fastest way. They have personal programs for each individual's unique fitness requirements. Whether a fitness conscious person needs a new gym or they are looking for one while on vacation WhenWeGetThere wants to help them find one. Use our Fitness Center Search or browse through the locations below to find the fitness center that meets your needs.